ROKR Pinball Machine 3D Wooden Puzzle EG01
Introducing the ROKR Pinball Wooden Puzzle Kit EG01! If you're a fan of classic pinball games, prepare to be transported back to the nostalgic era of the '90s. This vintage-style pinball game machine offers an exciting and immersive experience.
With the ROKR Pinball, you have the opportunity to challenge yourself by assembling all the intricately designed wooden pieces. By constructing your own pinball machine, you not only indulge in a satisfying DIY project but also create a functional and entertaining gaming device.
This pinball machine features a realistic transmission model, providing a lifelike gaming experience. As you play, enjoy the dynamic sound and light effects that enhance the excitement and atmosphere. The machine also includes electronic scoring, allowing you to track your progress and compete against your own high scores.
ROKR Pinball Relive the nostalgic charm of classic pinball games.
The ROKR 3D Pinball Puzzle guarantees hours of endless fun, whether you choose to play solo or engage in friendly competition with family and friends. Test your skills and strive to survive for as long as possible while aiming to achieve the highest score.
Unleash your creativity and relive the joy of classic pinball games with the Robotime-ROKR 3D Pinball Machine Wooden Puzzle Kit EG01. Get ready for an immersive journey filled with challenges, excitement, and nostalgic memories of the '90s.
*Notes: Due to customs policy, the wax may not be included in the package. Wax: you could use ordinary candles, crayons, beeswax, etc.
Ball-launcher Control
You should keep a ball bouncing in the level and hit all the targets. You can adjust the speed and bounce of the ball by controlling the launcher's power and direction.
Score for Hitting Targets
In the game, players can score by hitting various targets. Different targets have different scores, and there may be some special targets that are difficult to hit during the game.
Colorful Game Scene
This 3D pinball features a theme of acrobatics and magic performances, with small animals and musical tin soldiers as the setting. Colorful LED lights are used to render the visual effect and the tilting rectangular platform adds a sense of depth from far to near.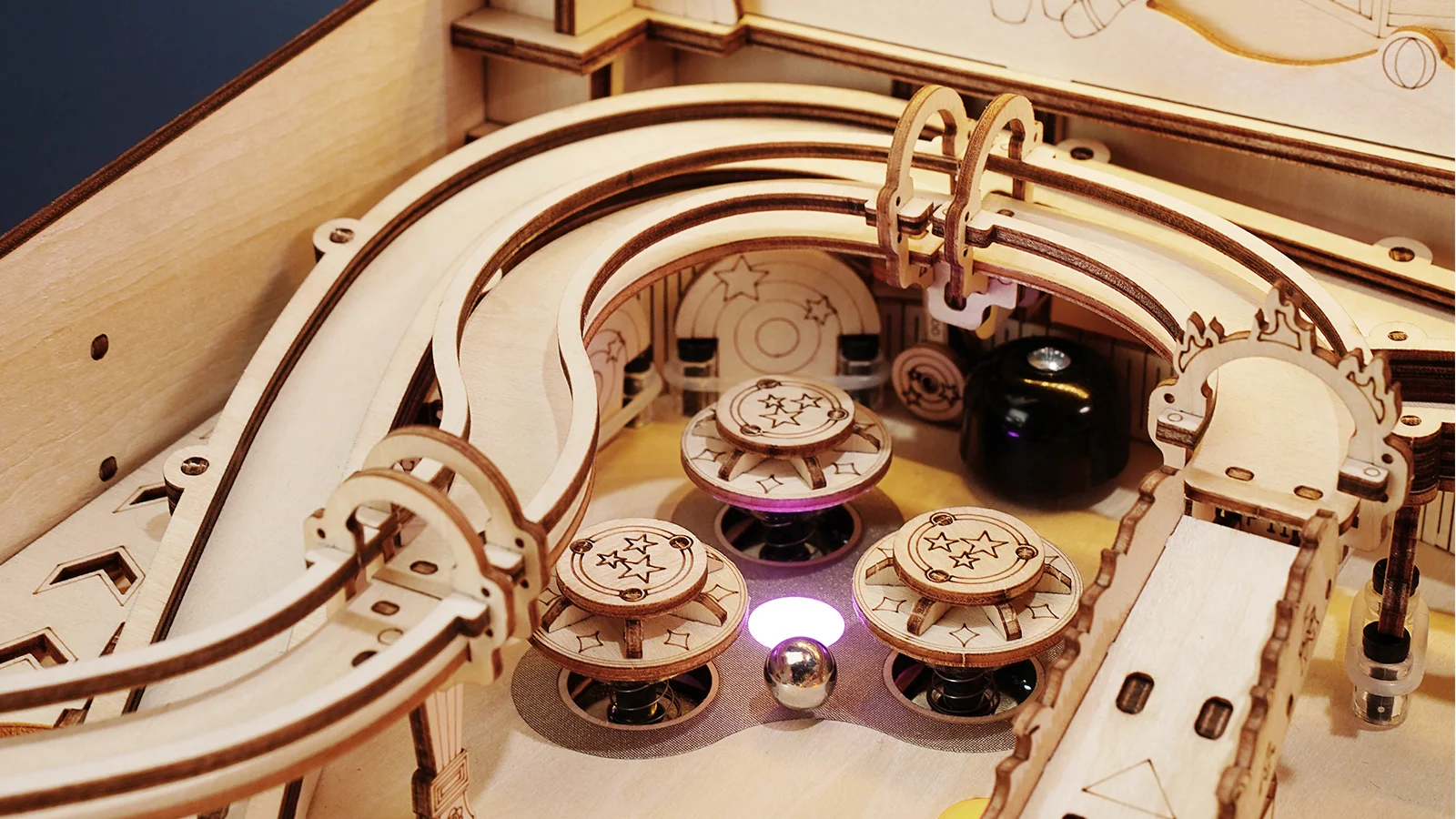 Unique Retro Design:
With the retro circus decoration as the theme, the overall design of this 3D pinball game gives a delicate nostalgic appeal.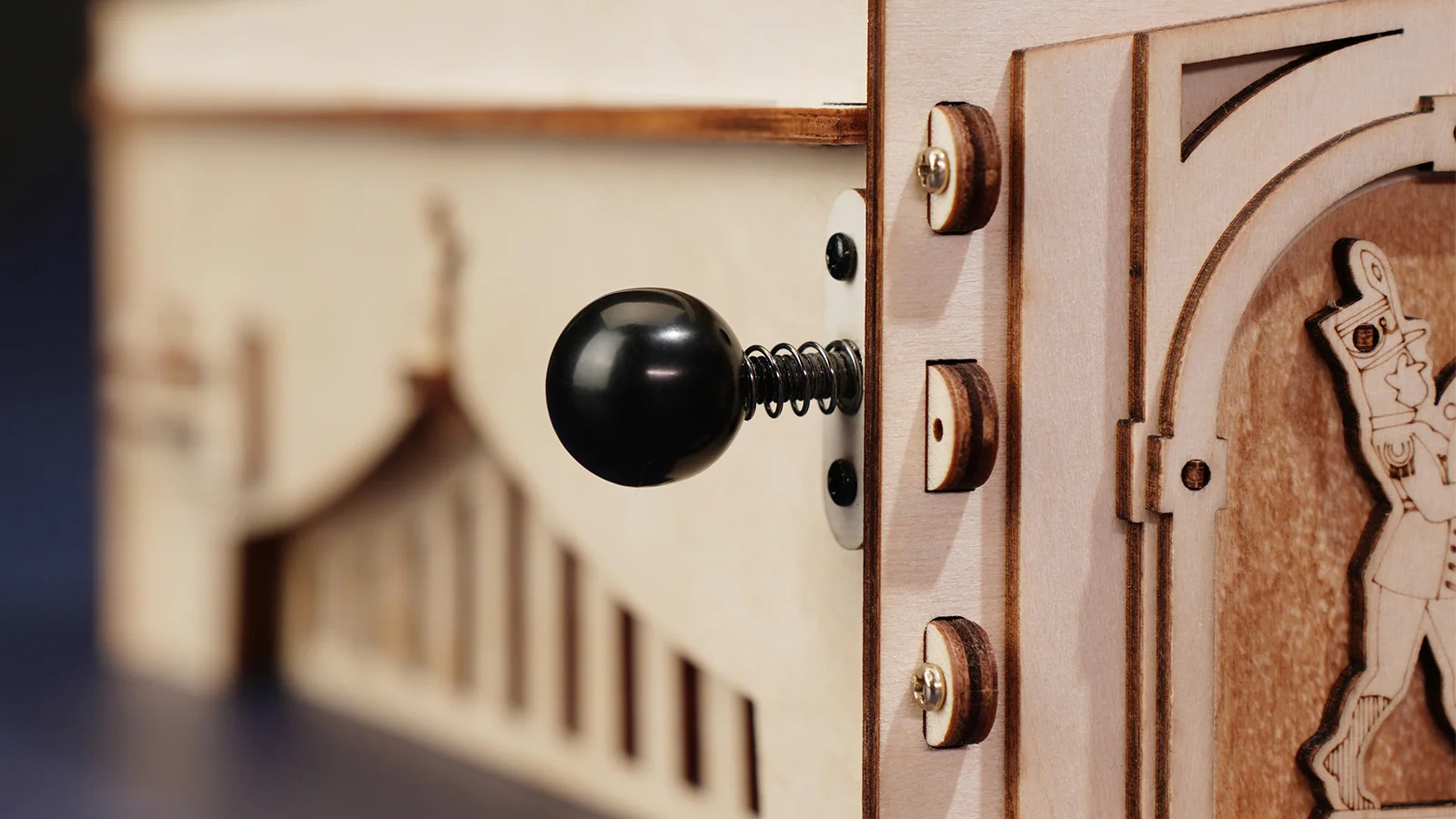 Easy & Smooth Assembly:
The wooden puzzle uses mortise & tenon joint design to bring you a smooth and delightful assembling experience.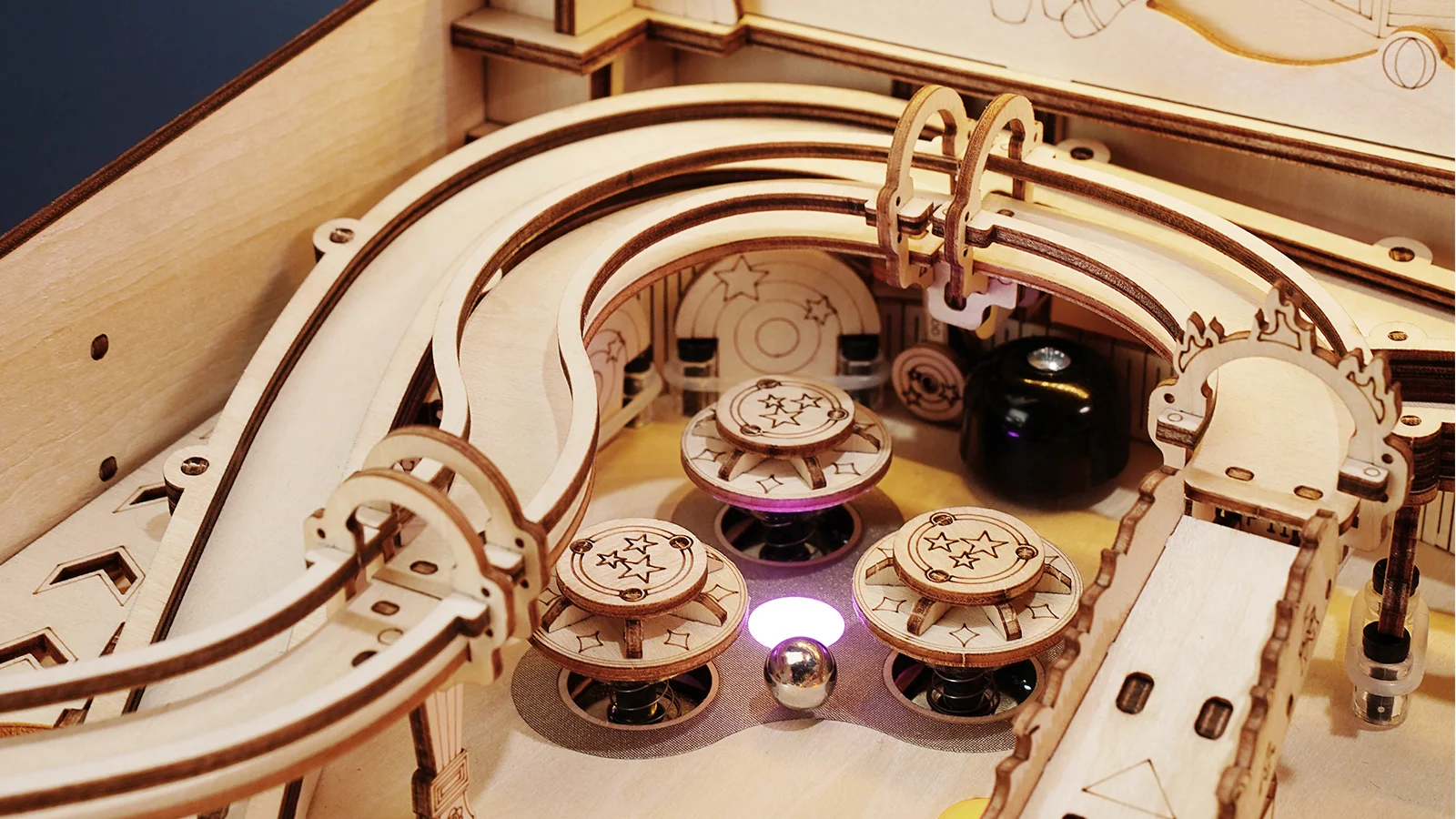 Casual Tabletop Game:
This tabletop game is suitable for all kids over 14 years old, young adults, middle-aged and senior citizens. Its a fun, creative and meaningful hands-on project to build and play in your spare time.
If you love classic pinball games, then get ready for the ROKR Pinball Machine wooden puzzle kit EG01! This is a vintage style pinball game machine that will take you back to the good old days of the '90s. Challenge yourself by assembling all the pieces together and build your own pinball machine. With all the transmission model, live sound & light effect, electronic scoring and other exquisite detail design, this ROKR Pinball will bring you so much fun playing on your own or interacting with family and friends. Try to survive as long as you can and score as many as possible!
Get ready to embark on an immersive journey through time with the ROKR Pinball Machine Wooden Puzzle Kit EG01. Indulge in the joy of assembling, playing, and competing with this vintage-style pinball machine. Whether you're a fan of pinball or simply enjoy hands-on activities, this puzzle kit promises endless hours of fun and excitement for everyone involved.