Robotime Rolife DG161 Becka's Baking House
The Robotime Rolife DG161 Becka's Baking House is the perfect way to exercise your creativity and craftsmanship skills while building your very own charming miniature house. This kit comes with everything you need to construct a beautifully detailed and realistic replica of a cozy bakery, including miniature furniture, decorations, and even LED lights to illuminate the interior. With easy-to-follow instructions and high-quality materials, this DIY project is a fun and engaging activity for hobbyists of all ages. Plus, once you've completed your miniature house, it makes for a unique and eye-catching decoration to display in your home or office. Get your hands on the Robotime Rolife DG161 Becka's Baking House today and start building your own miniature masterpiece!
Notice:
the glue, battery, and pigment are forbidden on international air shipping, and not included if shipped from China, please understand it, thank you!
Feature:
【Rolife 3D Dollhouse】By choosing Rolife, children can not only have the fun of assembling but also get their own dream house. Light up the LED lights in the dollhouse at night to let your child have a good dream. It would make a really cute Christmas, birthday, and Children's Day gift!
【New Design】The contents include the main framework of the bakery, bread rack, potted plants, as well as some small cute accessories. It also includes an LED light. The design of the small bakery is very cute. Compared with the previous doll house, it has improved product structure. Assembly is easier and faster.
【Play and Learn】Parents accompany their children to assemble doll houses and spend wonderful parent-child time together. After the assembly is complete, you can play the game of selling bread. Through role-playing, children can experience different professional lives and also learn about currency and mathematics.
【Product Security】Rolife insists on using panels made of pollution-free materials. Our products are all CEcertified. You don't have to worry about its material safety at all.
【Notice】The product requires 2 "AAA/LR03/AM4 1.5V" batteries.(Batteries for self-preparation.) Please check if the parts are in good condition before
Robotime Rolife DG161 Becka's Baking House Product Display: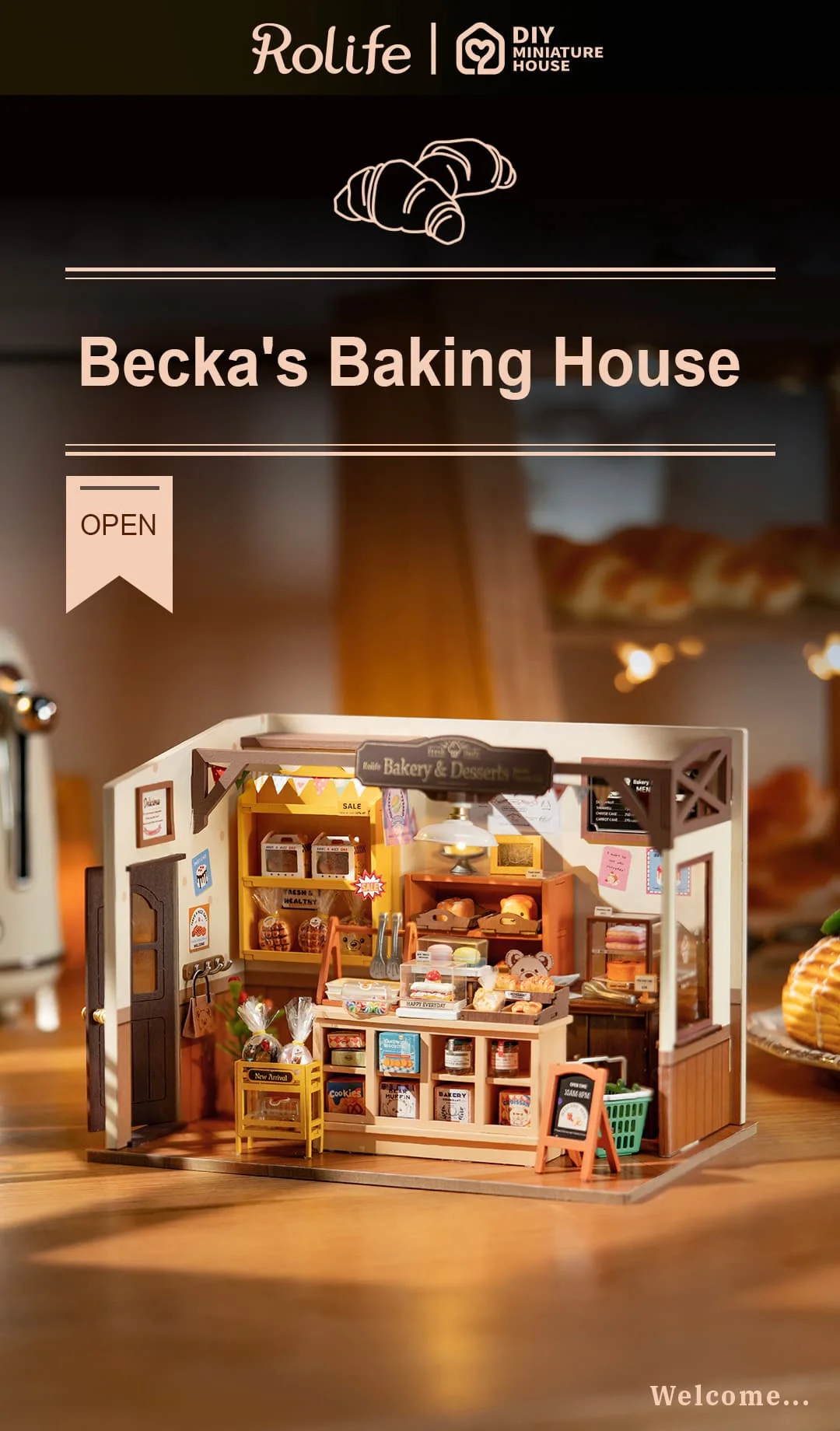 Discover the Sweet Delights of Robotime Rolife DG161 Becka's Baking House
Introducing the Robotime Rolife DG161 Becka's Baking House, a DIY miniature dollhouse kit that lets you step into a world of delectable pastries, charming details, and creative craftsmanship. In this comprehensive guide, we'll explore this delightful kit, its assembly process, and how it can transport you to the enchanting world of baking and confectionery.
A Culinary Journey Awaits
Becka's Baking House is not just a dollhouse; it's an immersive journey into the art of baking and confectionery. This kit brings to life the heartwarming ambiance of a cozy bakery, where the sweet aroma of freshly baked treats fills the air. With intricate details and realistic design, it offers you a window into the world of pastry chefs.
Craft Your Own Pastry Haven
This DIY dollhouse kit provides a creative and hands-on experience, allowing you to build your own pastry haven. The package includes precision-cut wooden pieces that are not only easy to assemble but also a delight to work with. With the help of a detailed, step-by-step instruction manual, this project is suitable for all skill levels, from beginners to experienced crafters. It's a chance to immerse yourself in a culinary adventure and create your own sweet world.
Enchanting Details
What sets Becka's Baking House apart is its meticulous attention to detail. From the lifelike miniature cakes and pastries to the charming furniture and bakery décor, every piece is crafted to perfection. The result is a miniature world that encapsulates the warmth and charm of a real bakery, inviting you to explore and engage in imaginative play.
A Miniature Culinary Experience
Beyond being a craft project, Becka's Baking House becomes a miniature culinary experience once completed. You can arrange the tiny cakes, cookies, and pastries on the display shelves and immerse yourself in the role of a pastry chef. It's a unique opportunity to explore the art of baking from a different perspective.
Ideal for Display and Gifting
Becka's Baking House, once assembled, transforms into a beautiful piece of art. Its attention to detail and artistic design make it a wonderful addition to any room's décor or a delightful centerpiece for special occasions. Additionally, it serves as a thoughtful and unique gift for baking enthusiasts, dollhouse collectors, or anyone with a sweet tooth.
Crafted to Perfection
Robotime Rolife, known for its dedication to quality and craftsmanship, has designed Becka's Baking House with precision and care. The wooden pieces are eco-friendly, finely cut, and designed to ensure a snug fit. Every detail, from the pastry display to the bakery equipment, reflects the brand's commitment to excellence.
A Delight for All Ages
Creating Becka's Baking House is an adventure that can be enjoyed by individuals of all ages. It's a celebration of the culinary arts and the joy of baking, whether you're an aspiring pastry chef, a baking enthusiast, or simply looking for a unique and creative project to undertake.
Craft Your Culinary Dream
Embark on a delightful journey into the world of baking and confectionery with the Robotime Rolife DG161 Becka's Baking House. This DIY dollhouse kit allows you to explore your passion for sweet treats, culinary creativity, and fine craftsmanship. Order your kit today and indulge in the joy of crafting, culinary artistry, and the magic of miniature worlds. Create your culinary dream with Robotime Rolife.
For all DIY models click here
For other more products click here