ROKR Victorian Lantern DIY Mechanical Music Box
Robotime ROKR AMK61 Victorian Lantern Mechanical Music Box
Music: YOU LIGHT UP MY LIFE Wood piece:210pcs; Assembly Size:140*115*300mm Assembly time: about 5 hours. Recommend age:8+, children under the age of 8 can complete the assembly accompanied by their parents. Certificates: EN71,CE, FSC,FCC; Battery: 1 AG13 button-cell battery needed.(Not included) 【Robotime ROKR AMK61 Victorian Lantern】is inspired by the Medieval Tudor Lantern back to the 15 century. Retro and Exquisite Design with a Led Light inside the Pavilion structures. Also, there is a beautiful melody playing when wound up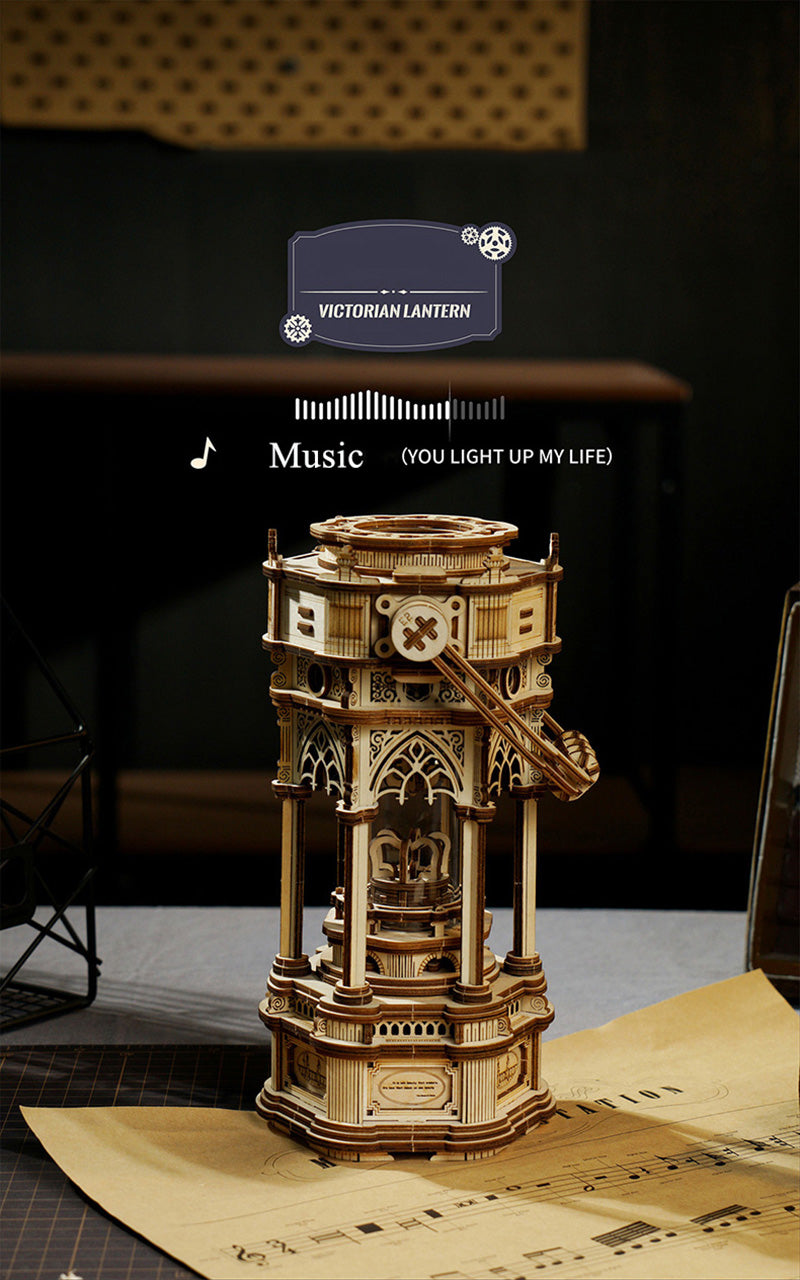 FUN AND EDUCATIONAL
Teens and adults aged 14 and up will enjoy building their own 3d puzzle set. Creating the wooden puzzle model kit is challenging and may take a few hours, depending on your pace and patience. These building sets will draw out and propel your child's ability to plan and build their own structure like a true architect or engineer.n
EXQUISITE DESIGN
The wooden craft kit is not only functional and fun, but it is designed beautifully, too! Great choice as Thanksgiving Day Gift, Birthday Gift, Christmas Gift, Father's Day Gift, Back to School Gift, Gift for Boys and Girls, for friends and family members. The mechanical wooden puzzle has decorative designs that look captivating in the finished product. Display a truly unique wooden piece on your desk, shelf, or nightstand.n
ENGLISH INSTRUCTION
With laser-cut technology, the pre-cut wooden board will be easy to pop the individual pieces out of the sheets. Utilizing safe and environmentally friendly wood from all-natural trees without any added toxins, even children can safely play with sets. Also, the educational toy comes packaged with clear, simple, and very detailed English instruction as well as illustrations. Follow the steps shown in the instructions and you will build the wooden art craft set quickly and correctly.n
FAMILY TIME
Thrill the entire family and provide fun and entertainment by piecing this DIY wooden puzzle together. Building this 3-D Puzzle Kit can be worthy for the family to complete together. The complexity of this kit will bring families together for hours to create something truly unique to display in their home. Believe us, this is an unforgettable family time, you will be surprised by the child's hands-on talent. This model is also a perfect idea for a handyman or anyone who enjoys woodworking.nnIt integrates the beauty of machinery and scientific exploration, which advocates science and technology, creativity, and freedom.n
EDUCATIONAL DIY 3D PUZZLE
Solving 3d puzzles flexes mental muscles and provides benefits for both children and adults
Also provides an effective way to develop motor skills,hand-eye coordination, and build a better sense of structures.
PERFECT DECORATION
You will certainly be proud of displaying your creation to all of your friends and family!D
Robotime ROKR AMK61 will be attractive decorations when you put them in the bookcase, display cabinets, etc.
EXQUISITE WORKMANSHIP
Wood is from all-natural trees, even children can safely play with sets without harmful chemicals.
Build your own structure like a true architect or engineer with exquisite workmanship.
For all DIY models click here
For other more products click here