Miller's Garden Robotime DG108 DIY house Kit
Miller's Garden Robotime DG108 DIY house KitDescription
Robotime Miller's Garden DG108 DIY green yard miniature is full of plants and flowers. Build a white bench and curl to the beautiful garden is a wonderful pleasure in daily life. Realistic details like a window with curtain, wooden rails, frames, fences, flower beds, flower pot. It is relaxing to craft and assemble your dream house together.
*Due to customs policy, glue, battery, or pigment may not be included in the package.
Crafting: You may paint, assemble, stitch, architect, and re-decorate the house, easy to assemble,
Assembled Size: 195 x 183 x 210 mm
Battery: LED Light needs two lithium button cells (not included)-Model: CR2032, Diameter: 20mm RT
Includes: Accessories and some tools such as nipper, clear English instruction
Estimated Time: 20 hours.
Perfect Home Decor for your room, the Best Gift for flower lovers or DIY lovers, and Relaxing Hobby on any occasion!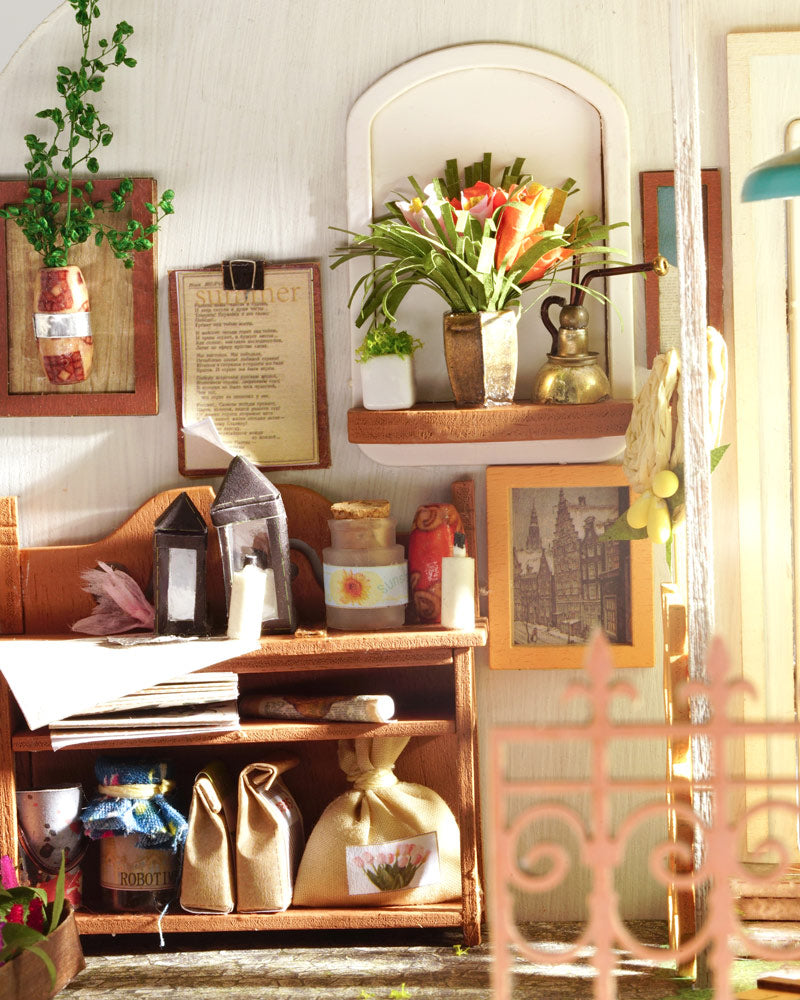 Robotime Rolife is committed to offering inventive endowments, covering a DIY dollhouse, music box, and 3d wooden riddles. We wish our items can help you discover satisfaction. The most fashionable and detailed DIY Miniature houses in the world. Handmade all the parts together by yourself, enjoy the pleasure of creating your dream house. With all kinds of mini houses and apartments, you can find what you love! build your own home
Robotime Rolife Tiny Mini House and Eco-Friendly Materials
Our DIY dollhouse is all around made, utilizing a smaller than normal size of about 1:24.
English Instruction with Illustration
Cute and Amazing Robotime Rolife Miniature House, English Assembly Instructions with nitty-gritty outline and picture. If your English instruction does not come out of the box, you can download it from the Robotime English instruction category.
Dollhouse Light
Decorate your room, tables, and grandstands in the wake of completing the unit. It's more excellent when turning on the light.
Educational Toys
Stress reliever for grown-ups. Light creative mind and a feeling of marvel in young men and young ladies. Motivate open-finished reasoning, Encourage kids hand to eye coordination, fixation, and a comprehension of spatial connections and to see additional opportunities. Administrator family game, particularly fit grown-ups and kids to play it together.
Safe, Non-Toxic, Highest Quality Material
Suitable for a very long time and upwards.
Creative Decoration and Gift
Once the model is finished, you will feel a feeling of achievement. It will get loads of consideration and looks incredible in a work area. Different children, colleagues, companions, or family can't resist the urge to play with it.
Matters Needing Attention
The material of the Robotime dollhouse is accurate, so don't waste it at every step and use it according to the instructions, otherwise, it will result in the shortage of the final parts. Don't be discouraged if something in the kit is broken, use your imagination to fix it.If you find product problems, please contact our seller at once, we will help you to solve problems. Thank you. (Battery is not included) *Due to customs policy, glue, battery, or pigment may not be included in the package.
For all DIY models click here
For other more products click here